Savoy cabbage-cheese-casserole with farmhouse hard cheese
from Germany
Method:
Pre-heat oven to 180 degrees.
Peel onions, cut in half and slice. Slice potatoes and bacon as well. Then fry bacon with 1 tablespoon of butter, stir in the onion slices and fry for another 3 – 4 minutes.
Grease a small oven-proof casserole dish. Add the ingredients to the dish in a layered effect starting with savoy cabbage, potatoes, bacon-onion-mix and cheese. Season lightly. Sprinkle some cheese on top.
Carefully pour hot stock over the casserole and sprinkle with remaining 2 tablespoons of butter. Cook covered on middle rack for 25-30 minutes, then another 10-12 minutes without cover. Take out and serve immediately.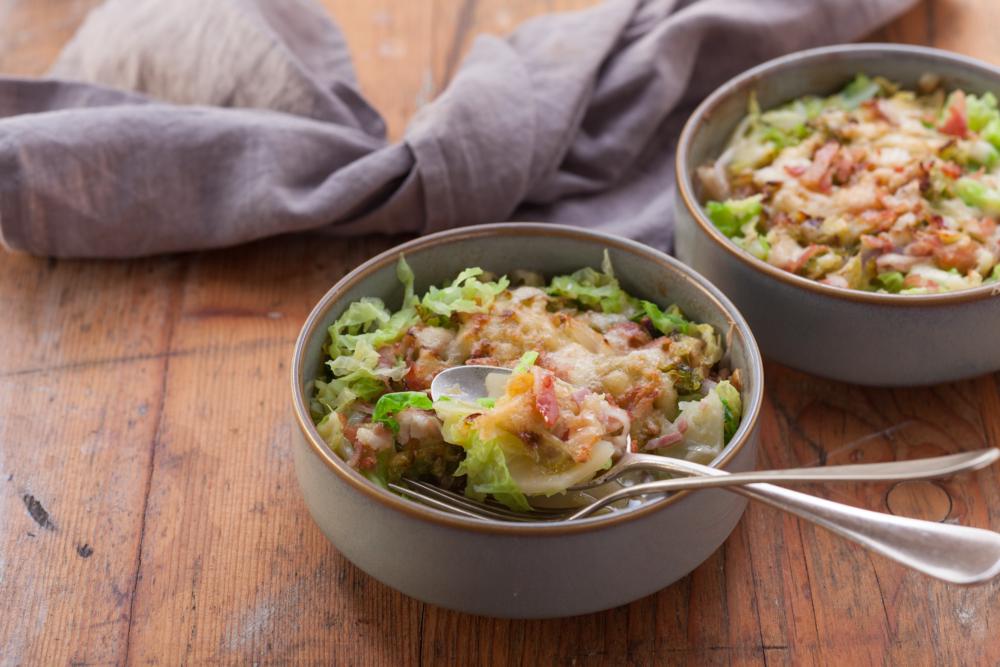 You will need
Serves 2
| | |
| --- | --- |
| 2 | red onions |
| 300 g | potatoes (peeled and washed) |
| 100 g | smoked bacon |
| 4 tblsp | farmhouse butter |
| 300 g | Savoy cabbage (finely sliced and pre-cooked) |
| 200 g | farmhouse hard cheese (roughly grated) |
| | salt, pepper |
| 500 ml | vegetable, chicken or beef stock |