FACEnetwork Video Contest
Your vision of farmhouse and artisanal cheese diversity
Are you making farmhouse or artisanal cheese?
Are you a passionate dairy producer?
Then we invite you to enter our video contest!
Show in a short video about raw milk and raw milk cheese.
For the sixth time, FACE Network launches this video contest. Our aim is to highlight the current reality and diversity of the traditional and artisan dairy sector of Europe, through the eyes of people who are in the sector.
Who can participate?
The contest is open to any cheese and dairy producer/worker aged 18 years or older. The competition is also open to future cheese and dairy producers, who are in training or internship period in a farmhouse or artisanal dairy.
What to show in your video?
This year the FACE Network Video Contest will for the first time include 2 sections:
1. Raw Milk
Is the motto of the contest. Through images and other means such as spoken commentary, subtitles, music…you should present:
How is transforming raw milk expression of your culture and territory?
What makes your raw milk cheese special or different?
How is your raw milk cheese an expression of biodiversity?
What does being a raw milk cheesemaker mean for you?
How your production / transformation are sustainable?
How does your heritage shows up in your cheese?
2. Good ideas prize
The new section reserved to genial solutions to practical everyday problems in the farm or dairy.
Have you found a genial solution for a practical problem in your farm or dairy?
Let your best ideas and practices fly all around Europe
The videos submitted must:
be your own original work
not infringe the rights of others
be respectful of the participants and potential audience, showing cultural sensitivity and avoiding indecent, shocking or disturbing images (e.g. Not harming individuals or animals).
Spoken commentary and subtitles can be provided in any language. Neither English nor any other language is mandatory.
How to apply
Each video must last 1 - 3 minutes. There is no particular requirement concerning the format. The video can be recorded on any technology, including mobile phones, as long as it is then submitted via the upload application on this page in a "standard" format, which can be downloaded on any computer. The key to enable the upload is 650983. Send your video till 01.10.2023. Only one video may be accepted per person.
Judging
An international jury of experienced cheesemakers and technicians will judge the capacity to clearly deliver a relevant message about the reality and specificity of a farmhouse/artisanal dairy, for a wide audience. Originality, overall impact and artistic merit will also be taken into account. The means chosen to present the video are not criteria which will be evaluated – for example, the use or not of commentary, subtitles, music, or laguage used, etc.
Prize
The winners will be announced during the FACE Network Annual Meeting in Switzerland.
All participating videos will be published on FACEnetwork website and on FACEnetwork's youtube channel and shared on Social-Media.
The winner in each category will get a package of international artisan an farmhouse cheese made by dairies member of FACEnetwork .
EASY TIPS TO MAKE A GREAT VIDEOS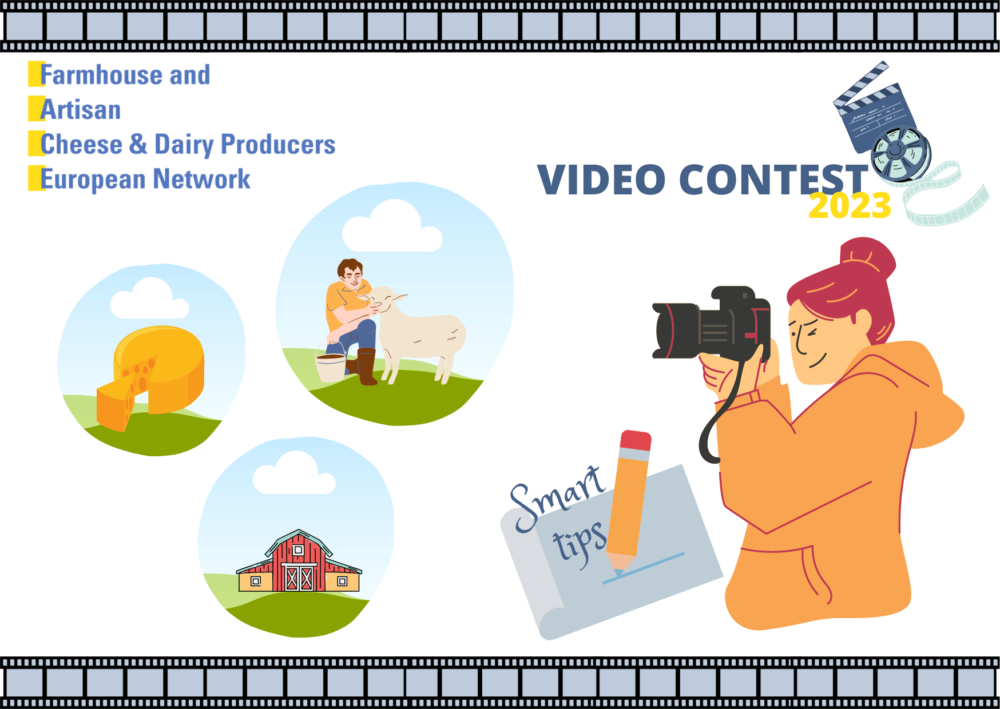 WHAT TO SHOW
Think about what would you like to show, which story would you like to tell. Decide the places, the subjects and anything you would like to include in your video.
HOW TO FILM
You can use a camera or your smartphone (most smartphones can make good videos).
If you decide for the smartphone remember to:
use the main camera (not the one used for selfies);
keep the smartphone in horizontal position during the registration;
better register under the natural daylight, but not directly under the sun;
make several short video shots, later it will be easier to edit;
enjoy while doing it!
AUDIO
If you haven't got an external microphone to connect to your smartphone or camera, be careful at the distance of the people speaking: if too far the audio quality will be very low.
Anyway, in case of necessity you can add subtitles while editing.
You can also register voices and add them a second time while editing.
TOOLS:
Application
Please find all relevant information on application and prerequisites for attending in the following document:
FACE Video Contest Rules
Participate
Flyer
download and share in your network
Winners of previous contests
Video Contest 2016, 2017, 2018, 2019 and 2021
Problems reading English
Please use online translation pages like:
Verband für handwerkliche Milchverarbeitung e.V.
Alte Poststraße 87, 85356 Freising
Tel. +49 (0)8161 - 787 36 03, Fax +49 (0)8161 - 787 36 81
E-Mail: info@milchhandwerk.info